Nonferrous Metalworking
Nonferrous Metalworking
In addition to plastics based engineering, we have a production base for nonferrous metals in Akita, Japan. We can process nonferrous metals such as aluminium, brass and titanium. We also conduct three-dimensional CNC lathe machining in order to meet the needs of our customers.
We manufacture products and jig tools for use in many fields including electrical components, special base, vessel, and aircraft related parts.
Customers can take advantage of our skilled staff who have years of experience selecting resins or metals suited to the usage and specifications required by the customer. Through our technology that harnesses the attributes of the materials to their full potential, we can meet all the needs of the customer.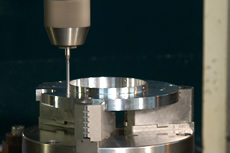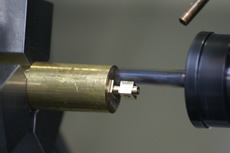 From Thin and Thick Parts to Micro Fabrication
We are also able to perform precise and refined processing for jig tools of high-class quartz.
We use 3D CAD coupled with cutting edge equipment to give us the high technology required for working with such complex-shaped products.
Moreover, we can also perform nesting that is rarely used in the manufacturing process if products have the same thickness and are composed of the same materials.
We can pass on the low cost of production to our customers by improving the yield rate.
We can manufacture a broad field of products, regardless of the thickness of the materials.
Please do not hesitate to contact us for consultation, quotation or any other inquiries.