High-quality and High-precision Engineering Plastics Processing
Processing of Engineering Plastics
We especially excel at processing resins so as to utilize the specific properties of each resin material, from general-purpose engineering plastics to super engineering plastics, and from heat plasticization to thermosetting.
In particular we have a highly established reputation in processing products that require a high degree of precision in dimensional accuracy and flatness. We also manufacture ultra-precision machine jigs such as lapping and polishing carriers and templates used for the liquid-crystal semiconductor industry.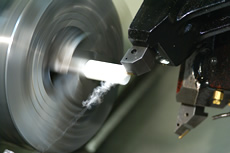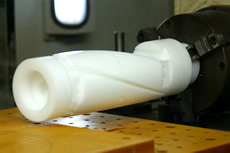 In-house Manufacture of Specialized tools Required for Processing of Engineering Plastics
In order to process products to the required high degree of accuracy and improve machining efficiency in accordance with the features and shape of the resins, we manufacture special tools, including cutting tools, exclusively for in house use.
In addition our processing machines have specialized spindles that operate at ultra-high speeds (150,000 rpm) to improve machining quality and productivity.
High quality coupled with quick delivery and low cost is achieved by fully understanding the features and functionality of the various resins, and by employing specialized jig tools that support our original processing methods along with machines that use ultra-high rotation speeds.